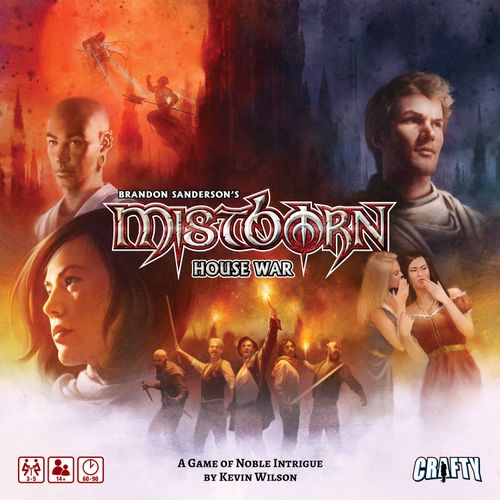 Before I begin, I was sent a copy of the game in exchange for an honest review. This is not a paid review. If you would rather watch a video of this review then you can view it below. Get your own copy here.
Brandon Sanderson is hands down my favorite fantasy author. His world building is second to none, and I will always appreciate that he finished the Wheel of Time series…and his books were significantly better written than the previous ones. I am not sure how I missed that there was a game based on Mistborn, but I did. Now Mistborn, is not my favorite of his series, it is probably 3rd or 4th. Stormlight Archive is first, followed by Reckoners, then its either Mistborn, or Rithmatist. Anyhow, the point is when I got a chance to get my grubby paws on Mistborn I jumped at the chance.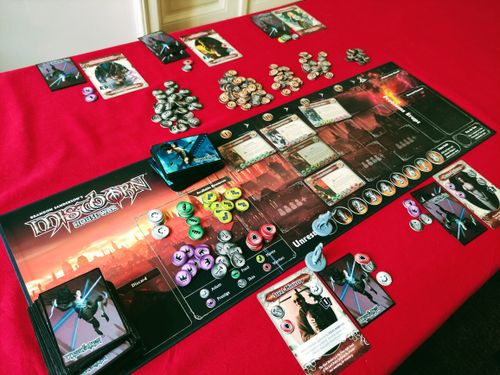 In Mistborn Housewar each player takes control of one of the houses, that anyone who has read the books will recognize. Each round new "problems" will flip out onto the board and progress across it. Then the active player will have the option to attempt to solve a problem. To solve a problem you will have to pay the resources listed on the bottom of the card. Solving the problem will reward you with victory points. Now here is the catch. Odds are you are not going to be able to solve any problems on your own, you simply do not gain that many resources, and in some cases you might not earn some of the resources at all.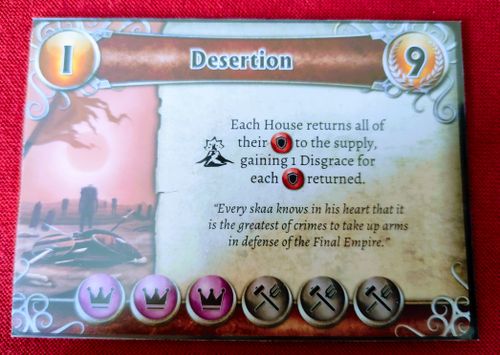 This is particularly troublesome because every time you fail to solve a problem it will "erupt", and when it does the player whose turn is it, will be able to decide who has to pay the penalty. So in order to make solving problems possible you will have to negotiate with the other players around the table, offering some of the victory points, and possibly other bribes to participate with you.
Additionally, each player has a hand of cards that might allow you to make a job easier, or give you new end game scoring, or attack another player around the table.
The game will end in one of three ways. All of them involve the arrival of Vin. She is the ultimate problem for the empire. Either you "solve" her, in which case whoever has the most points will win. Or the unrest track will reach 8, in which case the empire falls and whoever has the least points wins, or the Vin problem erupts, but the unrest does not reach the end of the track, in which case the person with the most points wins.
So what do I think?
Delectable
This is, perhaps, the purest negotiation game that I have ever played.
Often negotiation games have other mechanics mixed in that can muddy it. Not here. This game locks on to the behind the scenes house politics of the first book in the series, where you are negotiating with each other to jockey for power.
The fun of the negotiation is enhanced through the personality cards, giving just a hint of distrust to the game, as you never know what another player might do to you at the last minute.
I also really like that you are never truly out of the game, because you can always, if you have a feeling you far behind in points (you never know for certain as points are hidden), then you can always try to make sure problems that raise the city unrest are not solved, in an attempt to ensure your victory.
Tasty
This can be a mean game. While you can easily determine that there is no lying in the game, an option you have, there are always cards that can be played that will simply ruin you in a negotiation after the fact, meaning that you have blown your resources for no gain. At the same time, you can play some cards that will do that to another player, when you are not even in the round. So even at its nicest, this is a mean one.
Edible
The game plays 3-5 players. On its own that is a tough player count to get to sometimes, and along with that I personally think the game is best at 3-4. That makes it a little more challenging to get to the table in some cases.
I also think that, while I can see it, the thematic connection is tenuous. Yes, there absolutely is house politics and maneuvering in the series, but I do not know anyone who has read the series, and left it thinking "man that house politics was so exciting!" Rather you are very clearly on the side of the rebels (who are "problems") in the game.
Bringing it all together
Mistborn: Housewar is a fun negotiation game, and is one of the purest negotiation games out there. The game, even at its nicest, is a mean game, with potential backstabbing, and excluding players galore. The gameplay is very straightforward and simple allowing you to jump in quickly, and the game itself does not take particularly long to play…though you can certainly increase the game length in set up. If you are looking for a negotiation game and don't mind it being mean this might be for you. If you are looking for a game that makes you feel like you are playing the books, this is not the game for you.
The Lord Ruler has no interest in your prose
* Pure negotiation game, that plays quickly and is easy to learn
* Does not grab the core of the series it is based on, more tackles a background part of the book
* Can be a very mean game
* Challenging player count to get to the table, but well worth it when you can
* One of my preferred negotiation games