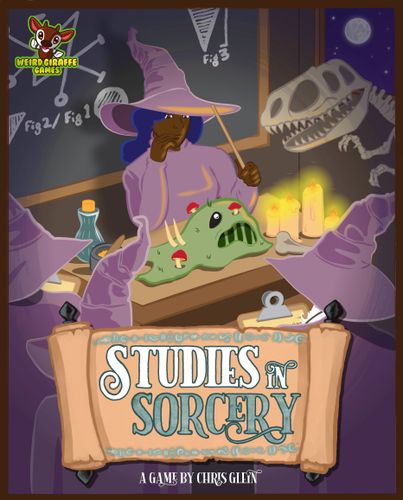 Before I begin, I was given a copy of this game in exchange for an honest review. This is not a paid review. You can check out a video of this review below. Get your own copy here.
If you have followed me at all over the past few years, then you should be aware that I have a soft spot for games that play quickly and take up a small amount of space. Then when you add to that a cool publisher I get excited. So obviously, when Carla from Weird Giraffe asked me if I wanted to cover this one, I absolutely did…it also helped that I got a fantastic demo of it from the WG team at PaxU.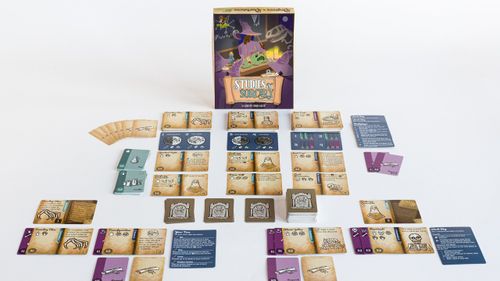 Studies in Sorcery is a very simple game in which you have a choice each round. You can go digging for materials, which utilizes a push your luck mechanic, as you look in graves for the materials you want. You can sell materials to buy projects, which you will complete for points, or you will add required materials to those purchased projects. At the end of each round, you will get to add more materials to your projects, and any you complete will reward you with both points and, perhaps, a new ability.
That is it. Then you will rinse and repeat for a total of 16 rounds, and at the end of the game whomever has the highest score will win. It really is just that simple.
So what do I think?
Delectable
This game is delightfully simple, yet there are tons of tense moments as you play due to the push your luck mechanics of the graves. Additionally, as the game continues you find yourself faced with hard choices regularly as you try to balance completing the projects you have purchased with the core actions of the game and the new actions that open up to you as you complete projects.
Tasty
The art has a minimalist feel to it, which is clean and attractive, but not overly exciting.
Edible
This a game that is on the multiplayer solitaire side of things. The only interaction you have with the other players is that you might take a project they want, or snag a pile of materials from a grave that they were hoping to get.
Bringing it all together
Studies in Sorcery is a delightful game, with a small footprint, small box, and quick playtime. The push your luck elements create difficult choices regularly, and the unlocked abilities for completing projects make the decision space more challenging as you progress through the game. The art is rather minimalist, but pleasant, and this is a delightful game, though it should be noted that it leans more on the side of multiplayer solitaire than it does on interaction.
No time for reading, just download the Cliff Notes
* Small box, small footprint, small playtime
* The push your luck elements, and growth of action options as the game progresses creates regular moments of tension
* Solid, minimalist art
* More multiplayer solitaire than not
* Plays well at multiple player counts